Remember this project from a couple of weeks ago?
It was one of the trash to treasure items I made to donate to our annual auction to raise money for breast cancer research.
I started with this pile of parts.
Best guess on the stainless steel pan is that it is from a cream separator. Note the $1.00 yellow price sticker! The dominoes ($.25) and the pan came from a local thrift store.
I made a few measurements and counted some holes for spacing of the dominoes around the pan,
then glued the dominoes to the pan with Gorilla Glue. The next step was to drill a hole in the center and finally, just pop in a battery operated clock. Looks like it's time for a game of dominoes!
By the way, the clock was purchased at the auction by Megan and Dave, and it now lives in their kitchen in Las Vegas!
I am linking to:
DIY Club's September Party
.
Vintage Suitcase Friday at Thirfty Tickle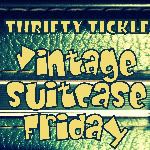 Gorilla Glue Party Event
Marge